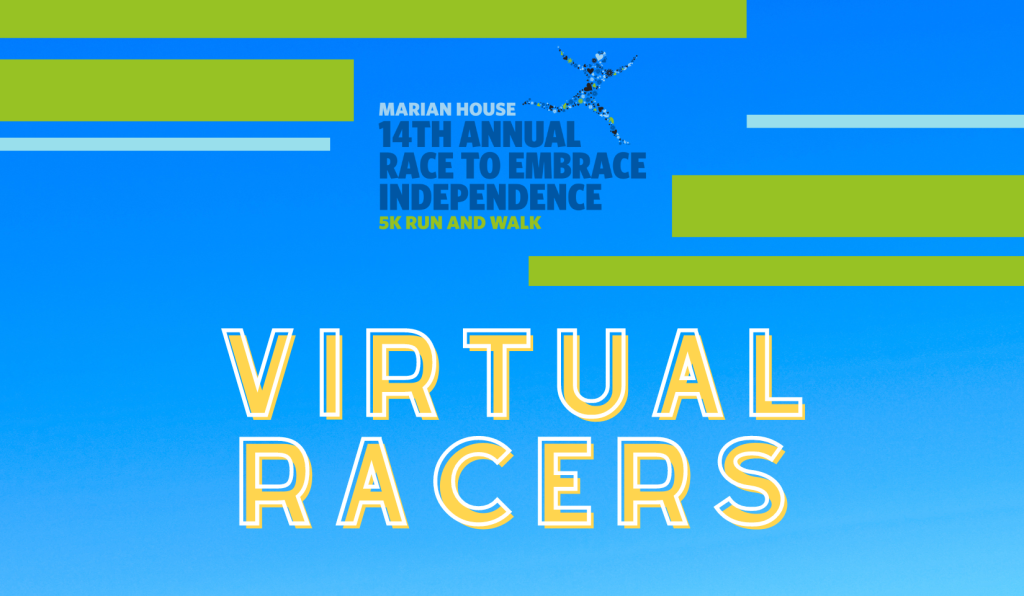 We're so glad you're joining us for this year's 14th Race to Embrace Independence 5K! Whether you're joining us locally on a different day or time, or from somewhere around the world – we feel your love and support and we're so grateful!
Below are some instructions for what you can expect for the virtual race, if you have any questions, email us at advancement@marianhouse.org
Packets: 
If you're local – you can pick up your packet at any of the packet pickups to grab your shirt and bib. If you're unable to come to a packet pick-up, you can email us to schedule a different pick-up day/time.
If your are NOT local – we will be mailing the packets AFTER the race day 9/24 with the official bib. However, if you'd like a bib file that you can print on your own, just send us an email to let us know!
Getting Your Miles In: 
We are using the honor system when it comes to our virtual racing – you can certainly track your time using an app or other method, and we'd be happy to see your times when you post using #MHRace – however, virtual times will not be listed in the official time log from Charm City and are ineligible for awards. Some apps we've heard great things about include: Runkeeper, Map My Run/Walk/Ride, Nike Run Club, or other fitness apps.
Get Your Jam On: 
We'll miss jamming out with you at race village, but we've curated a playlist just for our virtual runners! Take a listen here: SPOTIFY PLAYLIST
Take a Pic: 
Share a pic from wherever you're completing the race! Use #MHRace and tag us (Facebook: MarianHouseInc | Instagram: @marian.house) to be entered to win a Target Gift Card! If your profile is private, you can send us a screenshot of your post instead!
We hope you have a great run/walk/ride/swim/ whatever you do to get those miles in! While we can't be with you to cheer you on in person, we hope you know how grateful we are for you!