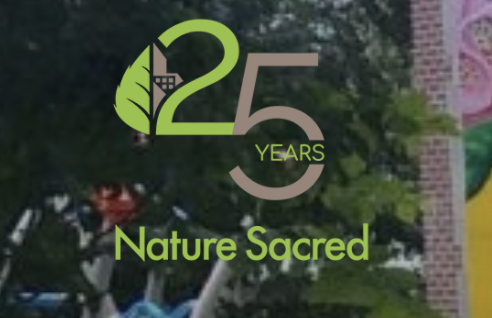 The courtyard at Marian House headquarters is a special place for the staff and residents and the local community. The courtyard offers a tranquil water fountain, trees, flowers, benches, and a community book bank where people can donate or borrow books.  In addition, the courtyard also features the four 6 ½ foot tall caryatids that are named after the four values Marian House aims to instill in all the women served:  Patience, Honesty, Integrity, and Trust. Residents love to gather on the 2nd and 3rd floor balconies overlooking the courtyard, to enjoy the fresh air and tranquility near their rooms.
Marian House Chief Administrative Officer, Psalms Rojas, and resident Njeri M., got together and submitted a proposal to the Nature Sacred Foundation to request funds to purchase two picnic tables for the courtyard, and new patio furniture for the 2nd and 3rd floor balconies.  The grant request was awarded, and the picnic tables and patio furniture have enhanced the courtyard and balconies for the residents to enjoy.  On a nice day, you can see residents having lunch outside or just visiting with other residents or visitors.
Thank you to Nature Sacred for helping to facilitate mindfulness, meditation, and relaxation.