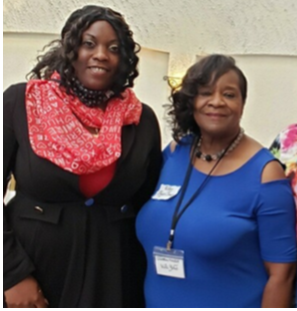 Rev. Joyce E. Jones has been a Marian House volunteer since spring 2022. With an impressive background, Rev. Joyce graduated with a bachelor's degree from Virginia State University and a master's degree at Central Michigan University in Public Administration and Human Resources. Formerly employed by NSA (National Security Administration), she taught at Cryptologic Training School, Prince George's Community College, and Bowie State University. She is a proud parent to two adult children and one grandson, Caleb.
As the Ministry Leader for the Christian mentoring and Transition Program (CMAT), she began meeting with Marian House staff last spring to explore a pilot partnership. CMAT recruits and trains Christian women to mentor incarcerated and recently released women, pointing them to Jesus Christ and referring them to resources to assist with their transition. Mentors participate from 30 different churches across the District of Columbia, Maryland, Virginia, Delaware and Pennsylvania. Hope Christian Church in Beltsville, where Rev. Joyce is ordained as an elder, is CMAT's host community.
Over the past 12 years, CMAT has been mentoring women inside the Maryland Correctional Institution for Women, and this year Rev. Joyce will celebrate 25 years of prison ministry. When COVID-19 forced CMAT to pivot to a more virtual presence, the seed of the idea to partner with community-based organizations working with the same population was born. Rev. Joyce was familiar with the work of Marian House because she had prayed for many women at MCIW, over the years, who longed to move on to what she came to understand as the "premier transitional program in the area." They were blessed to have previous mentees successfully complete the Marian House program and saw first-hand the kind of growth they experienced and the independence they gained.
In the initial pilot with Marian House, Rev. Joyce and her fellow volunteers at CMAT provided 15 women with personally tailored welcome packages with supplies to help them settle into their new home here. Those same women were invited to participate in a monthly pen-pal relationship and receive regular newsletters from the group. In November, the women were invited to Beltsville to help celebrate the 12th Anniversary of CMAT. Zoom and in-person enrichment activities are planned for the spring, with discussion topics voted on by participants. The next topic is, "Taming the Tongue: The Power of Talking Right for a Productive Life."
We're grateful to have Rev. Joyce and CMAT as part of the Marian House family and look forward as the partnership continues to grow and serve more women in its second year.