And the Winner Is…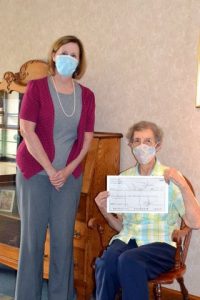 Congratulations to Sister Joan Minella for winning the 2020 Ravens Season Tickets Raffle. Sister Joan purchased her tickets on July 27th, just in time for the drawing on July 30th. Although Sister Joan is a big Ravens fan, she took the $1,500 cash prize option due to the fact that there will not be fans in the stadium for the 2020 football season. We are hopeful that fans are able to join at some capacity for the 2021 season. Be on the lookout for ticket sales to begin on April 1, 2021. Thanks to all who participated in the 2020 Raffle.
During an unprecedented year, we had a truly unprecedented, fully virtual, Race to Embrace Independence 5K. Thank you for your continued engagement with our annual fundraiser celebrating the journeys of our women. We had over 400 registrants and 36 teams participate in the safety of their own homes and communities.
With an eight day race week we worked to pay homage to the history of the race while embracing the unique circumstances of 2020! A new registration and fundraising platform and your hard work helped us to exceed our peer to peer fundraising goal of $35,000.00. With an amazing array of prizes from our donors, this year's online raffle was more popular than ever!
This event wouldn't have been possible without our long list of race sponsors, who despite the current economic climate, continued to show their commitment to the cause. 2020 sponsorship pledges exceeded $74,000.00. We also owe an extra special debt of gratitude to our 2020 5K Planning Committee, whose creativity and ability to adapt to new challenges, made a successful virtual event possible. You all are as a golden as our 2020 race shirt!
The one thing that rang true throughout this experience is that the race must go on! Indeed it did, and our projected net from the 5K is likely to be over $100,000.00 again this year!