The Goucher Prison Education Partnership
One-on-One with GPEP Alumna Shawnte Perry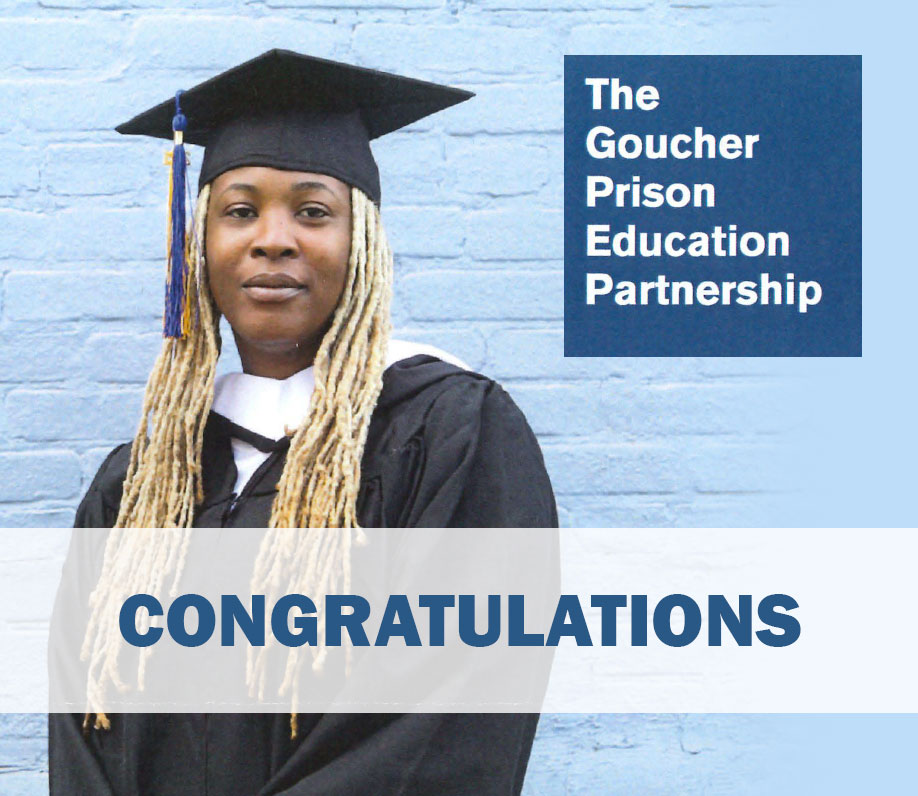 Shawnte Perry, a fall 2020 graduate, and two fellow GPEP students who graduated in the Spring 2021 semester, are the first women in nearly 30 years to complete a bachelor's degree through coursework offered onsite in a Maryland prison. They join former GPEP students who completed their college degrees after release from prison and students who earned Goucher bachelor's degrees while incarcerated at the Maryland Correctional Institution – Jessup. A young teenager when she went to prison, during her incarceration, Shawnte earned her high school diploma as well as completed her college education. She is now home. Shortly after this interview, Shawnte participated in the Class of 2021 Commencement ceremony on Goucher's main campus.
Why did you decide to enroll with Goucher College? I always had a desire to further my education, so Goucher was the perfect opportunity.
Please describe a specific memory that was important to your college experience. During my college experience I have had many encounters that could be deemed as important. There were so many instructors that have left a lasting impression on me just by being so caring and effective in their role to us. Peter Mallios was one of my favorite instructors because he was always so passionate about teaching.
You earned your Goucher College Bachelor of Arts degree this past December. What do you want people to know about your journey to your degree? Well, the first thing that I would say is that the journey definitely was not an easy one. I had to stay very focused and decide to never give up no matter how hard things got.
How does it feel to be a college graduate? I am immensely proud of myself for seeing it through to the end. I feel a great sense of accomplishment and believe that obtaining my degree will help me a great deal with my future endeavors.
What will it mean to you to walk in the Goucher College graduation ceremony this spring? Being able to walk across the stage finalizes it all for me. I have dreamt of this day for many years. My family and friends have all told me how proud of me that they are. They also have shared that they did not expect anything less of me. It felt great knowing that they were so supportive and believed in me so much.
How do you hope to use your education in the future? Reaching the goal that I have set for myself… to become a therapist.
What would you say to a current student who has felt frustrated or considered giving up? I would say to them that seeing it through to the end will be the greatest feeling of accomplishment in the world that they could possibly feel, outside of those that are mothers… then I would say that it is the second best feeling of accomplishment. Always consider your future and never give up on yourselves.
You have shared that you were incarcerated at 15 years old and were released from prison late last year. You spent a year in detention and then the last 24 years at the Maryland Correctional Institution for Women. This spring, the Maryland General Assembly passed the Juvenile Restoration Act banning life without parole for juveniles. There is increasing public conversation about juveniles incarcerated in adult prisons and youth given long prison sentences. Is there anything you want to share about that? It was not easy spending the rest of my adolescence and early to mid-adult years incarcerated. I deserved to do some time for committing a crime, however, I changed my life and learned the lesson, earlier on. I did not have the opportunity to come out early and show that I could be an honest productive citizen and get back into a natural flow where I probably could have had better opportunities to make a long-lasting career for myself and make the best of the rest of my younger years in society. I believe that no youth should be incarcerated past a certain amount of time. The punishment to be away from all the things that you once knew and the people that you loved is a deep pain within itself. The public needs to believe in the structure of the system that they vote on and have helped to create. This includes the rehabilitation of an individual once they have been incarcerated and that at some point, they have to trust that they will make wiser decisions in life once given the chance. Time pauses for no one… a lot of life occurrences will take place that youth will miss out on if they are behind the wall… life experiences that once it goes by, they could never get back.
What level of education had you completed before you went to prison? Before my incarceration, my highest level of education completed was the 9th grade. I had just begun my 10th grade year when I left home.
When you were 15 years old what did you think your life would be like at 41 years old? I would have definitely been a psychiatrist or psychologist by now. Somewhere in the DMV with my own office and set of clients. Helping people as I have always desired to do.
How does your life now compare to what you imagined? Getting my certification to become a licensed therapist is definitely on my active to do list. I feel like I am starting all over from scratch, well I am… so right now I am just starting my path to an actual career at 41 instead of already being secure in doing what I love already. Another challenge, yet as always, one that I am up for.
In your time as a college student, what role do you think you played for other college students in their educations? We all showed support to one another. I encouraged others in their journey, just as others had encouraged me. I would like to also believe that I set an example of what they are all fully capable of accomplishing as well. I would love to see them in the same position that I am in right now. I am proud of them for remaining active students and will be equally proud to hear about them all graduating soon as well.
What are you up to now? I am currently at Marian House [a community for women and their children in need of housing and support services] where I just finished my last set of groups, one being Job Readiness, which gives me the greenlight to start my job search. I have a lot of opportunities out here that I can get into, however, I am searching for a job that not only pays well, but also one where I am making a difference in people's lives. Basically, I want a job that turns into a career that I desire to wake up and go to everyday.
The Goucher Prison Education Partnership Get Involved To find out more, or volunteer, teach, or donate, please visit www.goucher.edu/GPEP GPEP I 410-337-6033 I gpep.inquiries@goucher.edu
GOUCHER I college
If you're interested in exploring monthly giving, please reach out to Beth at 410-467-4246 or advancement@marianhouse.org.