Welcome
Karen Albert –
New Chair of the
Marian House Board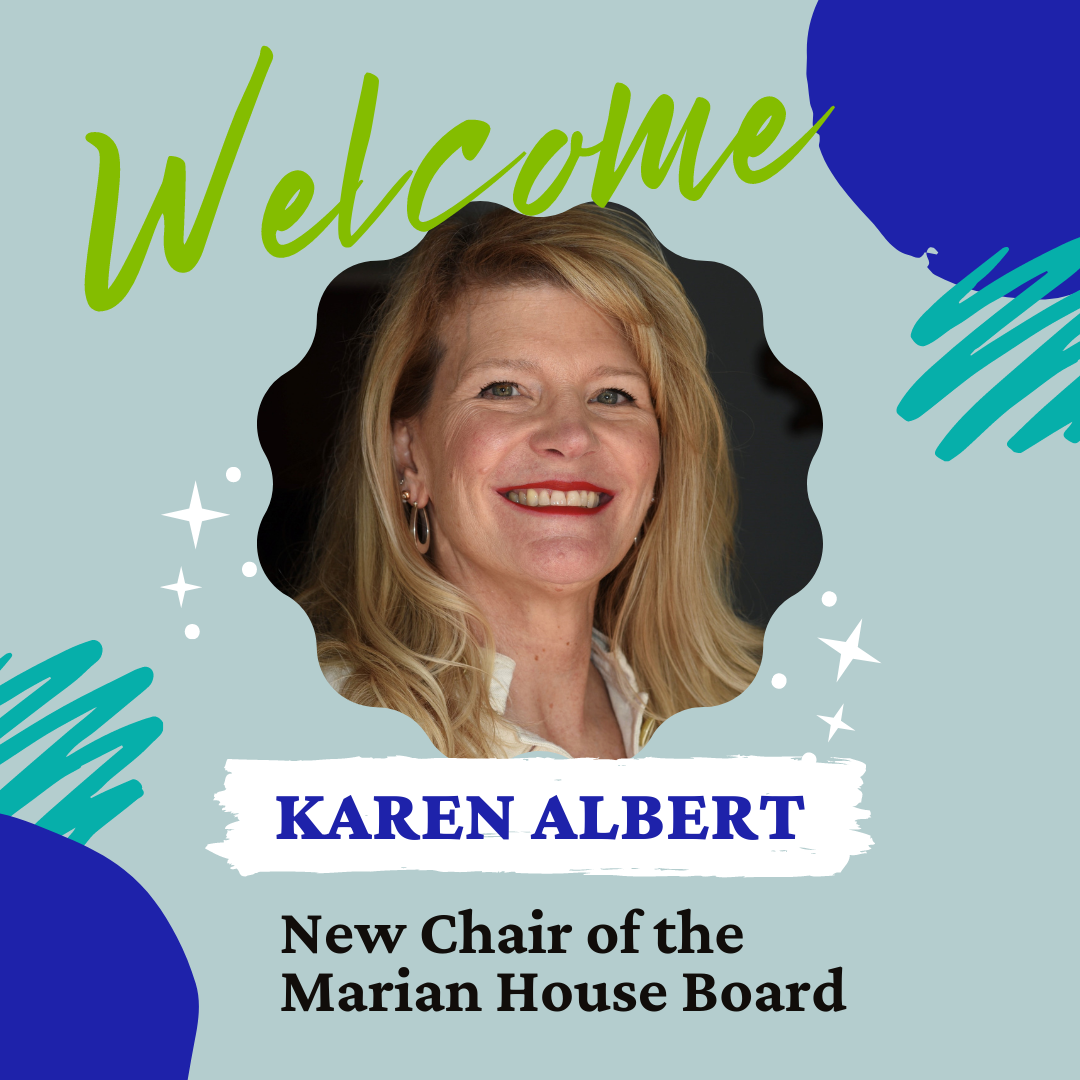 We welcomed Karen Albert as the new Chair of the Marian House board of directors on July 1, 2021. Karen has been involved with Marian House since 2008, when she joined the board and the advancement committee. During her first year on the board, she was the co-chair of the very first 5k, an event that is celebrating its 13th year in 2021. Karen continued to serve on the board and on various committees until 2018, when she took a brief hiatus. She rejoined the board in 2019, quickly assuming the position of vice chair and chair of the board development committee. 
When asked what she most looks forward to in her new role, Karen responded, "I have seen Marian House evolve and grow tremendously over the years I have been involved. I look forward to working with my fellow board members and the leadership and staff of Marian House to continue to develop and execute on strategic plans that will continue Marian House on its path forward. I feel there is so much opportunity for Marian House to serve more women and the board can play an important role in ensuring that is possible. It is my honor to have an opportunity to lead the board for the coming years."     
Karen will lead us as we complete year three of our current strategic plan and will guide us through a new strategic planning process for 2023-2026. Karen stated, "I am thrilled to be associated with Marian House at a time when so many positive things are happening.
The Marian House board of directors will do our best to elevate the visibility of Marian House in the community and help more women move from dependence to independence."
When Karen is not giving of her time, talent, and treasure to Marian House, she holds the position of Vice President, Head of Internal Audit, and Internal Control for Constellium. Constellium, headquartered in Paris, France, is a global leader in the manufacturing of high value-added aluminum products and solutions.
Karen is a member of Executive Alliance, a Maryland based organization focused on accelerating the success and leadership of accomplished women by expanding their impact and influence through advocacy, education, and mentorship. Karen was recognized as a Daily Record Maryland Top 100 Woman in 2020. On a personal note, Karen has been married to her husband John for 22 years. They are dog lovers and currently have two yellow labs; Cali is 7 and Jules is 3. Marian House board and staff look forward to working with Karen for the next few years in her new leadership role.