RESIDENT SPOTLIGHT
Saché grew up in a tight-knit family in the Park Heights neighborhood of Baltimore. She is the oldest of 5 siblings, with 2 brothers and 2 sisters. She had her first drink at the age of fifteen, but it wasn't until she was twenty-two that she began to abuse alcohol as a means to cope with the abusive relationship she was in. After multiple attempts, Saché was finally able to leave her abusive partner, but the addiction to alcohol had developed into a vicious cycle in her life. Over and over, period s of sobriety and stability would be followed by relapse, loss of job and home. Another attempt at recovery would eventually end in relapse, and the cycle continued.
"When I was just focused on working, I had no time for recovery. That's been my problem in the past, I forget that I have an addiction so I get back to my regular life and forget that I can't have a drink, then I'm back to square one: homeless, losing my job, having no money, and burning bridges with my family. The alcoholism makes my life unmanageable, makes me depressed and not care about anything, not even living."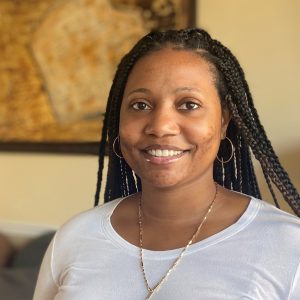 During her last attempt at sobriety, Saché was working two jobs, had six months s
ober, but was so busy that she did not prioritize her recovery. She knew she was on the verge of relapse.
As the holiday season came around, Saché was struggling with loneliness and she began to walk to the bar, but her boyfriend found her and stopped her from fully relapsing. "I knew I needed to do more for my recovery or I wasn't going to make it. When I had my interviews for Marian House, I knew this is where I needed to be. I needed the structure and the accountability. " When Saché first walked through our doors, just a few weeks later, in January this year, she remembers: "I was greeted by the other residents great, big smiles. I felt like God sent me angels. I relaxed in my shoulders and in my gut. It was a sense of relief and I knew it was going to be a good atmosphere for me.
Everybody welcomed me and was so friendly. Now that I've been here for a while, I know, it's hard NOT to grow here. When a new resident comes, I try to show them the same warmth and comfort that I felt when I first got here." Since being at Marian House, Saché has appreciated the stability that she has here. She started therapy for the first time in her life and began to address her anxiety and addiction. She is learning about herself and is building healthy coping strategies to maintain her sobriety long-term. "I had been in survival mode for so long. I was scared. I felt like I was just existing and like I was near death.
But God gave me hope, that I'm not too far gone, I still had a little bit of hope left to keep fighting. You don't always get a lot of chances to start over, but Marian House gave me a stable place where I didn't have to think about a bed, having heat, a roof over my head, or my next shower. Now that I don't have to worry about those things, I'm able to keep my recovery first! I have hope again."
Today, Saché has been rebuilding her career. In the past two month she has completed a phlebotomy course, renewed her First Aid and CPR certification, renewed her Medical Assistant license and is about to start a course for IV Therapy. "I feel like I'm in control of my life again, and if there's something I can't control – I know how to step away and let that go. I'm not living my life based on fear anymore. I'm looking forward to my independence, I want it all: my career, a car, my own place, and in the future, I want to be a Nurse Practitioner or Physician's Assistant.
My dream is to open a free mobile clinic that can go into the communities and give people the care they need, where they don't have to worry about being judged or having to pay for it. My family is very proud and supportive of me and my process. They're happy that they have back the Saché they remember."
We're so proud of Saché and have no doubt that she'll be able to reach all that she has dreamed of!