Called by the Spirit
Written by Sister Kathleen Feeley, SSND,
Marian House Board Member
Sister Sharon Brunier, a School Sister of Notre Dame, (SSND), lost her heart  to the ministry at Marian House—helping women begin a new life after personal struggles—on August 15, 1987, the day she joined the staff as a pastoral counselor. She has always felt that the Holy Spirit led her to Marian House, and she has never left. 
Sister Sharon's earlier ministry was teaching in SSND schools in Maryland and South Carolina for 15 years. She left the South to obtain a master's degree in Pastoral Counseling. Upon her graduation, she began looking for an appropriate ministry. At a large SSND gathering, Marian House Board member Sr. Ellis Denny told her that Marian House, a co-sponsored ministry of SSND had an opening for a counselor. Sr. Sharon applied and was hired by then Executive Director Sr. Marilyn Graf, RSM.
After serving for 11 years in that position, Sharon felt the need for a change. A new counselor replaced her, and she took a six months sabbatical. She had not intended to return, but she found that her heart was still there. She took a position in the Development Office, reaching out to current and potential donors for six years. Then the position of Education Coordinator opened, and she found that she could combine her talents as educator and counselor.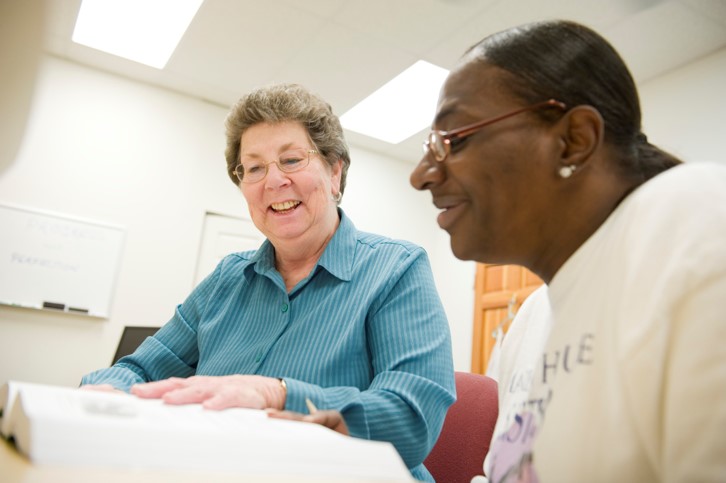 For the past 17 years, Sister Sharon has worked with Marian House women to achieve educational goals by first counseling them on the power that education brings, and then helping them to set goals and achieve them.
One of her bittersweet memories is of Dawn, who completed Marian House I, and moved across the street to supportive housing at Serenity Place with her three-year-old son, her only family. Dawn really wanted to obtain her GED. Sister Sharon worked with her, and she passed all the exams but math. Dawn was ready to give up. But Sharon was not. She tutored her and worked with her until Dawn finally passed math. But obtaining her GED was only one of Dawn's dreams. Sadly, those dreams were left unfulfilled. Dawn died four years later after a valiant battle with cancer.
Sister Sharon is a Spirit-centered woman. After 34 years of fruitful ministry at 949 Gorsuch Avenue, she feels blessed to still be where her heart led her: to the women of Marian House.